Chamber Master Default Template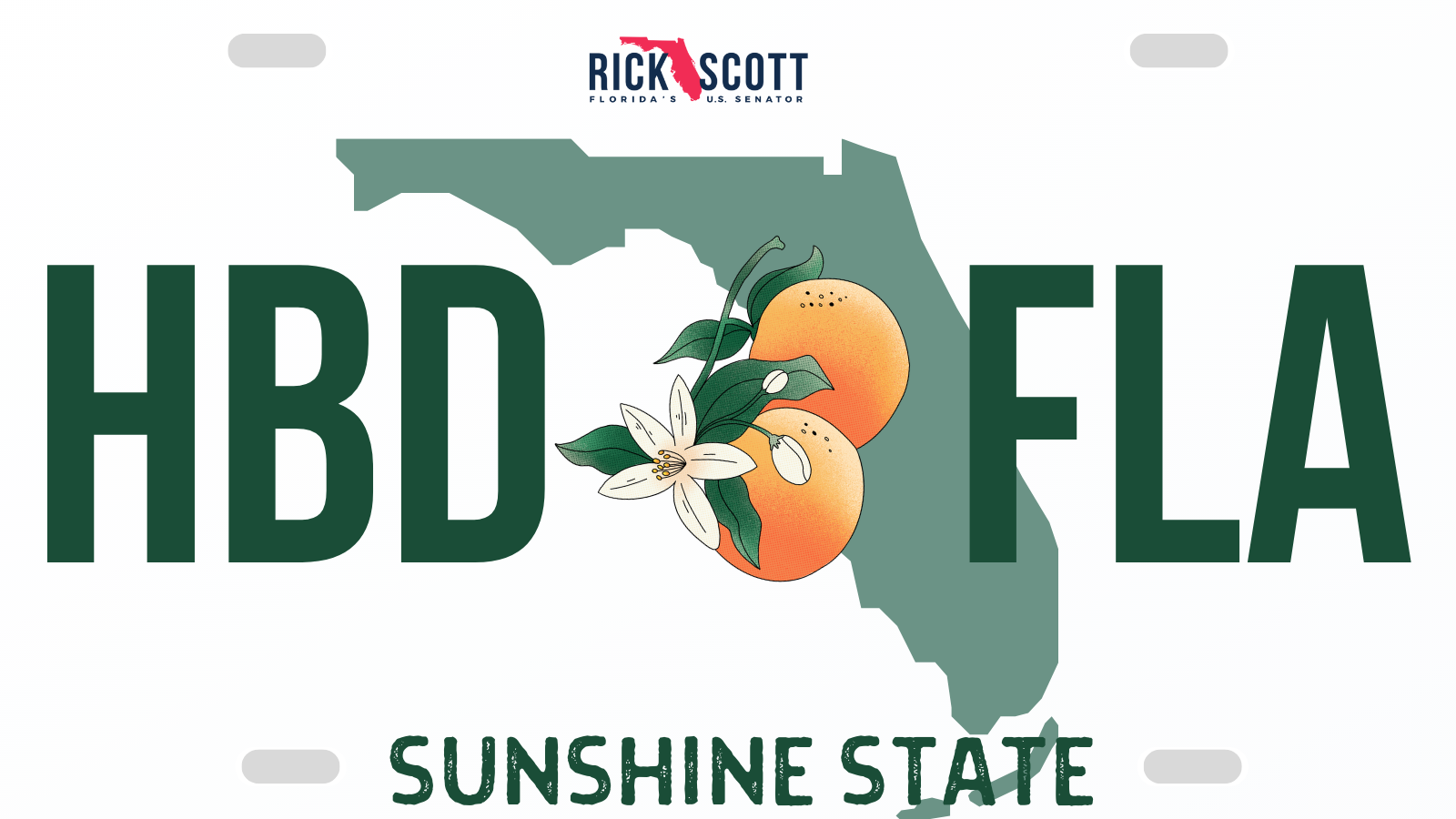 Sen. Rick Scott: Happy 178th Birthday, Florida!
Dear Floridian,
Today, I am proud to join you and your family in celebrating Florida's 178th Birthday.

Thank you to all of the hard working families, job creators and individuals across our state that make Florida the best place to live, work and raise a family. As your U.S. Senator, I will never stop fighting to make the Sunshine State the best place to live your dreams.

Happy Birthday, Florida!
Sincerely,

Rick Scott
United States Senator
TALLAHASSEE


111 N. Adams Street, Suite 208
Tallahassee, FL 32301
Phone: (850) 942-8415

WEST PALM BEACH


415 Clematis Street, Suite 201
West Palm Beach, FL 33401
Phone: (561) 514-0189

TAMPA


801 North Florida Avenue, Suite 421
Tampa, FL 33602
Phone: (813) 225-7040

KISSIMMEE


1 Courthouse Square, Suite 300
Kissimmee, FL 34741
Phone: (407) 586-7879

PENSACOLA


221 Palafox Place, Suite 420
Pensacola, FL 32502
Phone: (850) 760-5151

MIAMI


901 Ponce de Leon Blvd., Suite 505
Miami, FL 33134
Phone: (786) 501-7141

NAPLES


3299 Tamiami Trail East, #106
Naples, FL 34112
Phone: (239) 231-7890

JACKSONVILLE


400 West Bay Street, Suite 289
Jacksonville, FL 32202
Phone: (904) 479-7227

ORLANDO


225 East Robinson Street, Suite 410
Orlando, FL 32801
Phone: (407) 872-7161

WASHINGTON, D.C.


502 Hart Senate Office Building
Washington, D.C. 20510
Phone: (202) 224-5274

Fax: (202) 228-4535