Chamber Master Default Template

Dear Fellow Floridian,
Joe Biden, Democrats, and some leaders of the Washington establishment have made a lot of claims about me over the last few weeks. The ironic thing is all of these accusations are things they are actively doing.
While Democrats howl and lie about made-up threats to Social Security and Medicare, the reality is they haven't done one thing to protect them. In fact, Joe Biden and Democrats in Congress have done more to hurt Social Security and Medicare than anyone I can think of.
While Joe Biden had legislation to actually cut entitlements, my record shows that I've been 100% committed to protecting them from the start. But we cannot protect Medicare benefits if we do not get our fiscal house in order and ensure Democrats are not allowed to continue Medicare cuts like the one they passed just last year.
My Protect Our Seniors Act includes three key provisions to protect the benefits of Social Security and Medicare and promote the long-term solvency of these critical programs:
Rescinds funding from the Inflation Reduction Act for 87,000 new IRS agents and redirects those funds to the Medicare and Social Security Administration Trust Funds to ensure the programs remain fully funded.

Requires a two-thirds vote, against ANY legislation that the Congressional Budget Office (CBO) determines would reduce or cut existing Medicare and Social Security benefits.

Makes sure savings to Medicare cannot be used to offset or pay-for Democrats' woke agenda like they did in the "infrastructure bill" as well as the

Inflation Reduction Act.
Read my full plan to protect our seniors and preserve and protect Social Security and Medicare

HERE.
Sincerely,

Rick Scott
United States Senator
To be the first to find out about Senator Scott's actions and statements, follow him on

Twitter,

Facebook,

Instagram

,

and

LinkedIn.
—
See more of what Senator Scott has been up to this week below.
Sen. Rick Scott: Reprehensible Soft-on-Crime Prosecutors Turned Blind Eye to Pine Hills Shooter and Should be Fired NOW
Senator Rick Scott released the below statement following reports that the individual behind the deadly shootings in Pine Hills that killed three Floridians, including a nine-year-old child and a TV reporter, had a long and dangerous criminal history.



Senator Rick Scott

said,

"This week, a woman, a nine-year-old little girl and a bright, young news reporter were heinously murdered in Pine Hills by a vile criminal that never should have been on our streets. These innocent Floridians were the victims of past justice denied and a leftist, soft-on-crime approach that is spreading like cancer through America's criminal justice system and taking countless innocent lives along the way. ENOUGH IS ENOUGH. Every prosecutor that chose to give this young criminal a pass should be fired TODAY, and State Attorney Worrell must immediately account for how her office failed to protect the community from a violent criminal and outline what she's changing to ensure it doesn't happen again.





"Some will say this is a horrible outlier in a system designed to give second chances. Tell that to the families of the three slain Floridians that will never get a second chance at spending time with their loved ones. In Florida, we believe in law and order, and any member of the criminal justice system that doesn't shouldn't keep their job. I urge state officials to look at every option available to force accountability on this office."
Read more

HERE.
—
Sens. Rick Scott, Mark Warner Introduce Legislation to Ban Purchase of Drones Manufactured in Countries Identified as National Security Threats
Senator Rick Scott joined Senator Mark Warner to introduce their

American Security Drone Act

which would prohibit the purchase of drones from countries identified as national security threats, such as China.



Senator Rick Scott

said,

"I've been clear for years: the United States should never spend taxpayer dollars on anything made in Communist China, especially drones which pose a significant threat to our national security. Xi and the Communist Party of China are on a quest for global domination and whether it's with spy balloons, TikTok or drones, they will stop at nothing to infiltrate our society and steal our data. I'm proud to join my colleagues to reintroduce the bipartisan American Security Drone Act to STOP the U.S. from buying drones manufactured in nations identified as national security threats. This important bill is critical to our national security and should be passed by the Senate, House and signed into law IMMEDIATELY."
Read more

HERE.
—
Sen. Rick Scott Leads Reintroduction of Stop Taxpayer Funding of Hamas Act
Senator Rick Scott was joined by Senator Cindy Hyde-Smith and Senator Mike Braun in reintroducing the

Stop Taxpayer Funding of Hamas Act.

This legislation will ensure no American taxpayer dollars will be authorized to the territory of Gaza until the President certifies to Congress that these funds can be spent without benefitting terrorist organizations. This bill was introduced following Biden's State Department's

admission

that American taxpayer dollars could potentially fund Hamas terrorists through Palestinian aid.
Senator Rick Scott
said,

"As President Biden appeases dictators around the world, U.S. allies, like Israel are left abandoned. Israel is a country facing unyielding attacks from terrorist groups, like Hamas, who wish to destroy the Jewish state and its people. Our bill, the Stop Taxpayer Funding of Hamas Act, requires the president to certify that any taxpayer money authorized to the territory of Gaza will not end up in the hands of Hamas terrorists, making clear that we will cut off ANY AND ALL ties, direct or indirect, to terrorist organizations that attack our allies. Our resolve to stand united with Israel – a shining example of democracy in the Middle East – MUST be stronger than ever. We must never accept a weakened position or back down in the face of terrorism."
Read more

HERE

.
—
Sen. Rick Scott Issues Weekly Update on Biden's Inflation Crisis
As the Bureau of Economic Analysis' January Personal Consumer Expenditures (PCE)

release

showed prices paid by consumers for goods and services rose 5.4% over the year Senator Rick Scott released a weekly update on his actions to address America's debt crisis and rising inflation. The PCE data released today sent the stock market into a sharp decline and is further proof that President Biden's inflation crisis, caused by his and Democrats' socialist policies and reckless government spending continues to wreak havoc on the economy and shrink budgets for families as the prices of everyday goods continue to skyrocket.
Senator Rick Scott
said,

"Housing costs are up. Energy costs are up. Food costs are up. The stock market is tanking. And it is all because Joe Biden and the Democrats are obsessed with spending money that we don't have. As American families struggle to make ends meet, the Left continues to push dangerous policies that are bankrupting our country and making life hard for folks in Florida and all across the nation. America's credit card is maxed out, but I am fighting every day to keep Washington's spending in check. Florida families cannot afford more of Democrats' reckless agenda. It is time to implement real reforms, especially as Congress considers the debt ceiling, that will get our country's fiscal house back in order."
Read more

HERE.

Lea más en español

AQUÍ.
—
Fox Business:
China wants to destroy our way of life: Sen. Rick Scott
Politico:
Buttigieg feuds with Florida's GOP senators on Twitter over derailment
The Floridian:
Scott Reintroduces Stop Taxpayer Funding to Hamas Act
Florida's Voice:
Rubio and Scott call out Buttigieg, Biden for Ohio chemical situation
Florida Daily:
Rick Scott to FDA: Current Standards for Lead, Toxins in Baby Food Fail to Protect Children
Florida Daily:
Rick Scott, Byron Donalds Want to Impose Tougher Sanctions on Cuban Regime
Senator Scott in Daytona Beach
Senator Scott started off the week celebrating 75 years of Nascar at the Daytona 500 where he met with Volusia County Sheriff Mike Chitwood and the Apopka High School band.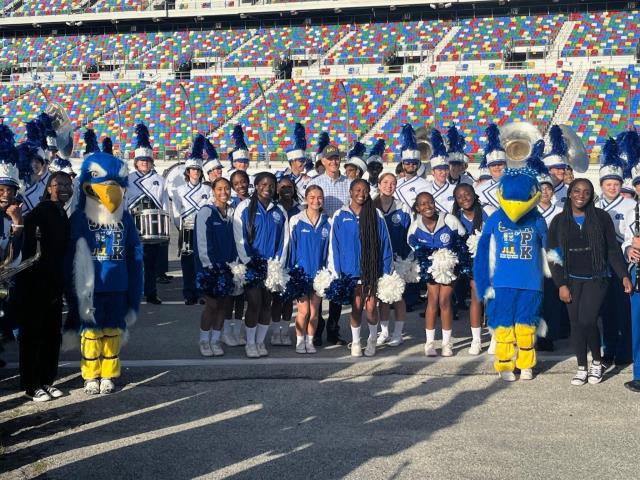 —
Senator Scott in West Palm Beach
This week, Senator Scott also visited Salento Coffee in West Palm Beach.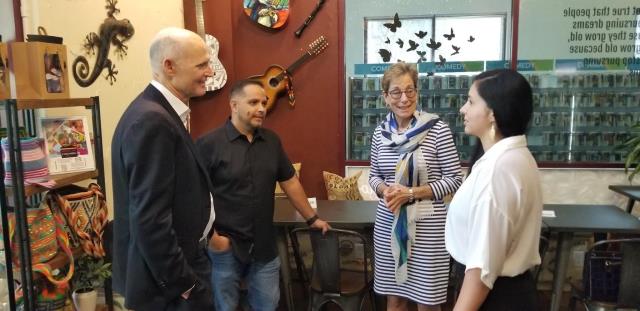 —
Senator Scott's Team in Charlotte County
Senator Scott's team attended the swearing-in of Leah Valenti as Charlotte County's Supervisor of Elections.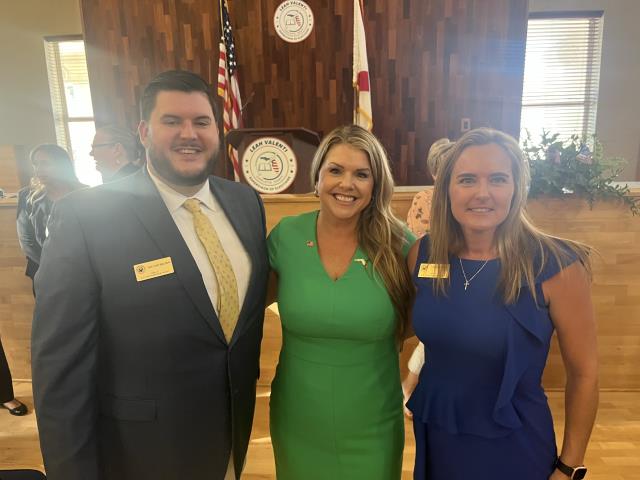 —
Senator Scott's Team in Tampa
Senator Scott's team also took part in the Sheriff's Community Action Team during the Florida State Fair. This annual initiative gives the community an opportunity to learn about HCSO and assist in reducing crime at the fair.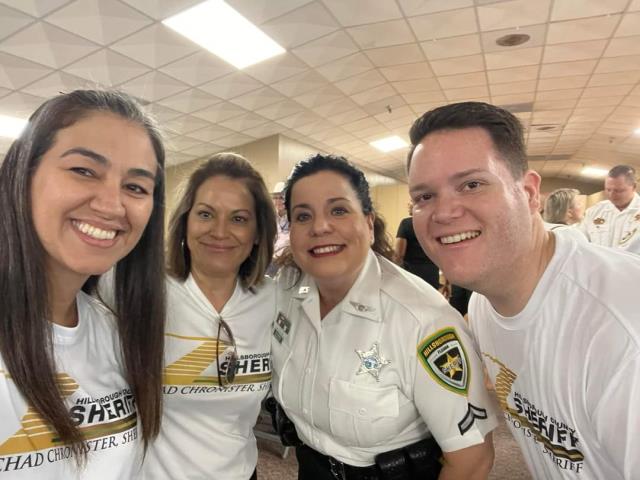 —
Senator Scott's Team in Bonifay
Senator Scott's award-winning team hosted mobile office hours in Holmes County where they helped attendees with federal agencies. To find a mobile office hours location near you, click

HERE.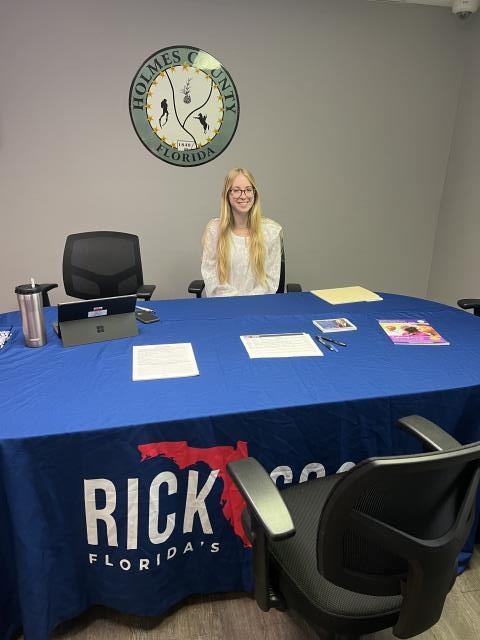 —