Chamber Master Default Template
One question I'm frequently asked is "What Types of Businesses Do You Sell?"

After decades in commercial lending, I found I have a passion for working with closely held businesses. These are frequently led by one entrepreneurial figure, sometimes a family team. I really enjoy all types of businesses and all of their varied business models.

I do have a favorite industry, though. These are the manufacturers; high-tech or not. There is tremendous variety even within this industry. Marine and aerospace manufacturers in particular are incredibly interesting. From rocket engines to boat propellers to marine electronics. I love it all.

Besides selling businesses, my consulting firm does economic development work and business transition planning. We help businesses transition to ownership to other family members or key managers. I also maintain very close relationships with many commercial lenders. I make these referrals gratis. Please call if I can ever help.

All my best,
November 16, 2022
Develop a Company Vision That Employees Buy Into


I'm sure you've read about the importance of having company values and a mission or vision statement. But why is it important and how do you establish them? When I first started my business with one client and a couple of employees, I didn't have the structure in place. But as we grew and added more clients and …
Entrepreneur
Career Advice by CEOs: How to Win at Life


Professionals are always on the lookout for the best career advice they can get. A good job is one where growth and compensation go hand in hand …
Industry Leaders
Business Valuation and Sales
Our Proven 5 Step Process to Sell Your Business

1. Value - receive an expert opinion of value for your business
2. Position - create a marketing plan emphasizing your company's strengths and potential
3. Confidential Advertising - get your business in front of the right buyers
4. Qualify - Buyers sign NDAs and demonstrate the ability to close first
5. Close - schedule confidential meetings, negotiate terms, close the sale

Want to know more? Schedule your free, no obligation, exit review now.
Acquisition Experts, Inc. - Featured Business Listing
PROFITABLE FENCING CONTRACTOR with SUBSTANTIAL REAL ESTATE. Established over forty years. Industry Leader in the south Florida market. Strong Brand from decades of advertising. Consistent recurring revenues. Real Estate included. A property like this is impossible to find in today's market! 5720 sq ft office/warehouse on 1 acre with improvements. Ideal central location minutes from I95 and the beach. Strong growth opportunity. THIS IS A COMPLETELY TURN-KEY BUSINESS! Asking $2M for the Business plus $3M for the Real Estate. Pre-Qualified for SBA financing with 20% down on 25 year term. All Buyers must provide financial statement and resume. $5,000,000.
Are You Burnt Out or at Capacity?


When Cate Luzio launched Luminary back in 2018, she wanted to create a space and a community where women could upskill themselves and uplift each …
Entrepreneur
Is 60 Too Late to Change Your Career?


A 2015 Al Pacino movie 'The Intern' showed the possibilities and importance of an older adult's contribution to the economy and society post …
People Matters
8 Ways to Get Promoted at Work


Getting promoted requires more than just doing great at your current job. Even when your performance is good, and you exceed your goals, you still have …
Jump Start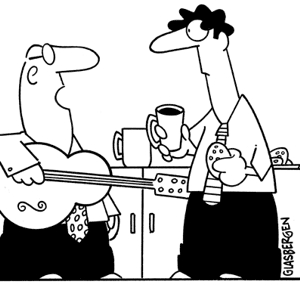 "I'm going to cash in on global warming by publishing a bunch of new Christmas songs! Rudolph the Red Nosed Dolphin, Deck the Halls With Central Air Conditioning, I Saw Mommy Fanning Santa Claus, Baby It's Lethal Outside"
Copyright © Randy Glasbergen
Paul McCartney Knighted
Paul McCartney, a former member of the most successful rock band in history, the Beatles, was knighted by Queen Elizabeth II for his "services to music."
The day was Nov 16. What year was it?
Quote of the Week
"Don't worry about people stealing your design work. Worry about the day they stop."
Jeffrey Zeldman
Trivia
What fairy-tale phrase was coined in 1964 when London politicians blamed secretive Swiss bankers for increased speculation against the pound?
See the answer below.
West Advisory
The articles in our publications come from many sources. We do not endorse information or opinions appearing in linked articles. The articles selected are not sponsored, and we assume no responsibility for the accuracy of the information. Copyright for linked articles belongs to the linked source.
Trivia Answer
What fairy-tale phrase was coined in 1964 when London politicians blamed secretive Swiss bankers for increased speculation against the pound?
Answer: Gnomes of Zurich

A Newsletter Station Publication
Big Business Marketing
Small Business Budget
© All Rights Reserved.